Long time no post. Been busy with a few things. One of them was moving to Utah. We were deliberating on how to move our belongings from California to Utah. Do the Uhaul thing and pull one of our cars? Pay for movers to do everything and just drive accross Nevada in our cars? We ended up using ABF (U-pack), and were pretty pleased with the results.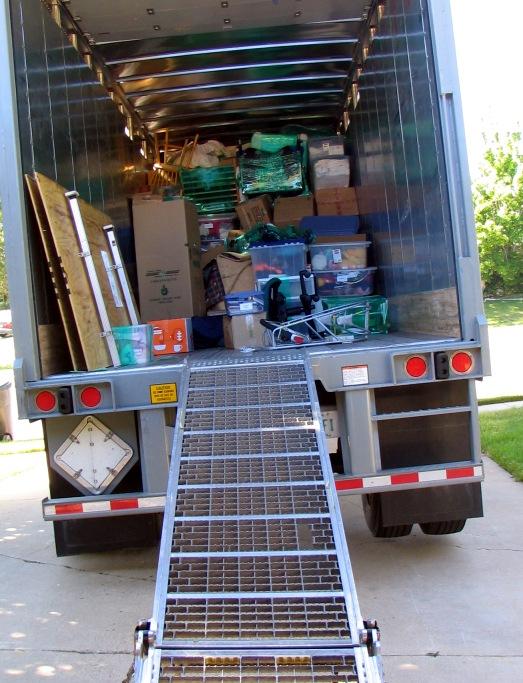 U-pack is sort of a cross between a Uhaul and a traditional moving compnay. They park an emtpy trailer for you to load. When you're done packing, you put up a retaining wall. They pick up the trailer, fill the remaining space with freight and then drive it for you. That was the appealing part for us and the quote was actually below what it would have cost to rent a Uhaul (note that U-pack included gas, U-haul does not). We didn't really want to drive a Uhaul accross the Sierras. (Too many horror stories of friend's doing the same and having a breakdown). So here's some of my hindsight on moving:
Call U-pack two days before to verify dropoff time
Call U-pack one day before to verify dropoff time
Call U-pack two hours before to verify dropoff time (Note the dropoff time was later than expected by a few hours, which had us a little nervous since we had people committed to come over and help load)
Though pretty, storage containers like this will give way when under they are piled too high.
Try and pack in the same size of boxes for maximum tetris-like cramming of items
Double layer (cardboard) boxes are a lot more crush resistant
Watch craigslist (set alerts) to collect moving boxes for cheap (or free)
Don't make the mistake of packing the mattresses first. Pack them later so you can use them as an additional retaining wall
Try and park on a level surface....