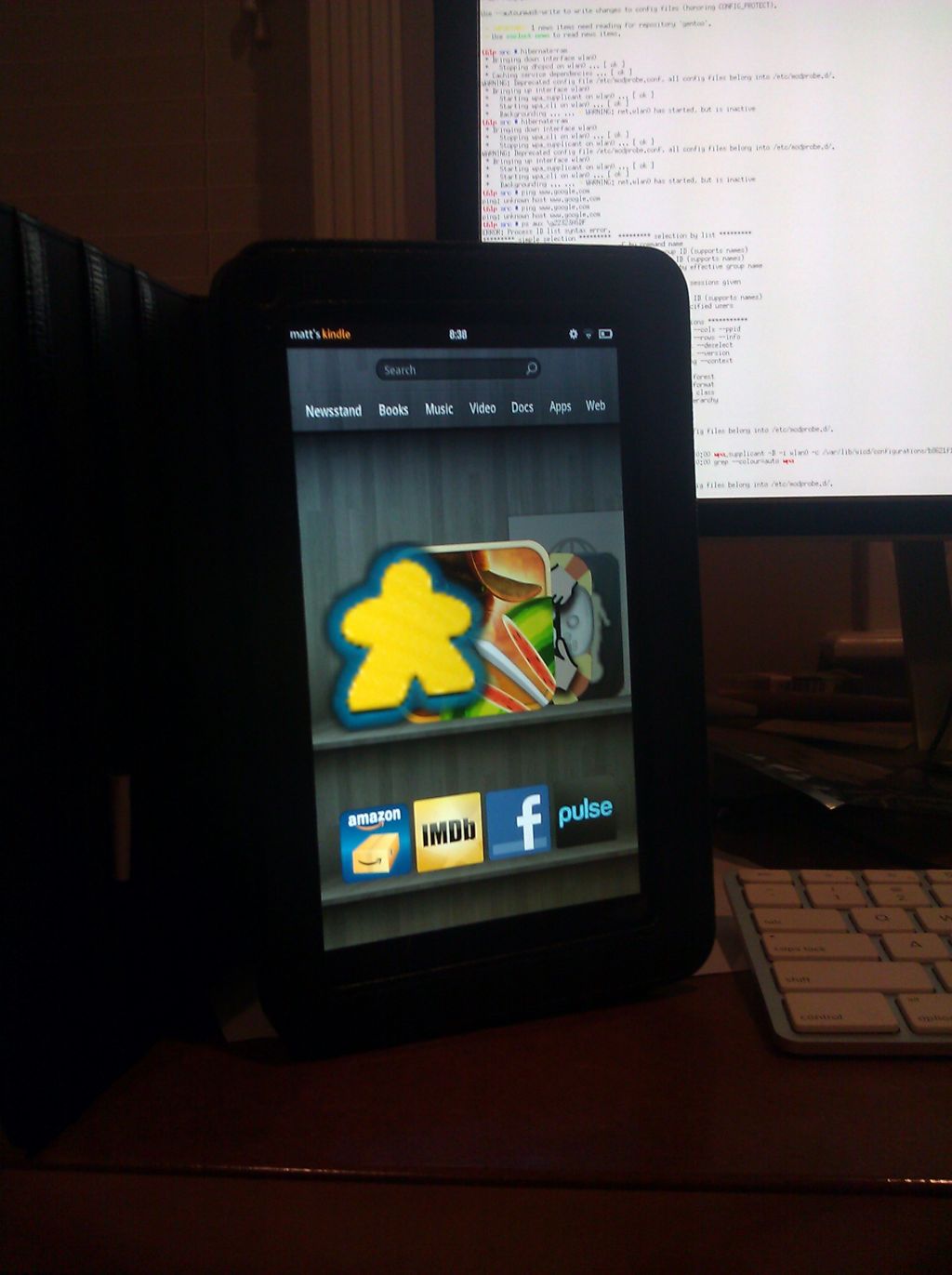 I have the game Carcassonne on my G2 which I purchased at the Android Market. While there are a few things I like about the iOS version better, I think the Android version is a well done game. No, they aren't developed by the same developer, though gameplay is very similar.
In addition to being cheaper than the physical version, there are other advantages to the digital version, such as indicating valid spots to play pieces. This is a huge benefit and makes the game smoother and faster. This is also a board game, where you don't have private information (such as cards in your hands), so it is very amenable to tablet computing. It seems like most Carcassonne people I know (a handful) prefer the tablet version. But enough about Carcassonne.
Enter the Fire
I wanted to load the game onto my Kindle Fire. Sadly Carcassonne is missing from the Amazon store, but getting it onto the Fire wasn't too hard. Here's what I did, you might be able to shorten some steps.
Purchase the app on my phone.
Enable Installation of Applications from Unknown Sources in the Settings->More->Device page on the Fire.
Create an .apk backup of the game on my phone. The file explorer ES File Explorer, available in the Amazon market, allows you to do this.
Copy the .apk from the phone to the Fire. I used a usb cable to copy from the phone to my computer and the app WIFI Explorer to put it on the Fire. Using Dropbox on both devices would probably eliminate need for a computer. My .apk was located in /mnt/sdcard/backups/apps/Carcassone_5.apk.
Tap on the .apk on the Fire from a file explorer to install it.
Enjoy the Fire
The game works fine on my Fire. Because the Fire lacks some features my phone has, some applications won't "just work". I have a few other apps that I want to transfer over, and feel that this is a viable solution. Here are the drawbacks to sideloading non-amazon apps:
The icon resolution is lower than other Fire apps, so it appears a little pixelated in the carousel.
Ease of install is gone.
Ease of updating is gone.